Plusssz Gold Vital Tonik
Liquid dietary supplement. No added sugar.

STRONG HEART

IMMUNITY

VITALITY
Plusssz Gold Vital Tonic is a specialty liquid preparation, containing natural plant extract: hawthorn, wild rose, melissa and rosemary. What is more, group B vitamins: folic acid, pantothenic acid, biotin, niacin, vitamin B6 and vitamin B12 are also included. No added sugar.
Preparation ingredients were specialty designed for people after turning 50 – take care of your heart!

Hawthorn supports the proper functioning of the cardiovascular system

Rose-hip strengthens the immune system

Lemon balm supports wellbeing

Rosemary leaves support the proper functioning of the alimentary canal
INGREDIENS
Folic acid helps with the proper functioning of the immune system
Pantothenic acid contributes to the maintenance of proper mental performance
Biotin helps with the proper functioning of the nervous system
Niacin helps with the maintenance  of the proper psychological functions
Vitamins B6 and B12 contribute to reducing tiredness and fatigue
Ingredients: water; thickener: sorbitols; bulking agent: glycerol; extracts from: wild rose fruit*, lemon balm leaf*, hawthorn fruit*, rosmarinus leaf*; colour: sulphite ammonia caramel; preservative: potassium sorbate; acidity regulator: citric acid; vitamins: nicotinic acid amide, D-pantothenate calcium, pyridoxine hydrochloride, pteroylmonoglutamic acid, D-biotin, cyanocobalamin.
* plant raw materials are added in the form of a complex ethanol extract
METHOD OF USE
Recommended daily intake: 30 ml. Consume  one tablespoon (15 ml) 2 times per day. Shake before use.
Product should be diluted in water, tea, juice or other liquid.
Do not exceed the recommended  daily  intake.
Overdosing might cause vomiting effect.
Dietary supplements should not be used as a substitute for a balanced and varied diet.
Balanced and varied diet are vital for maintaining a healthy lifestyle.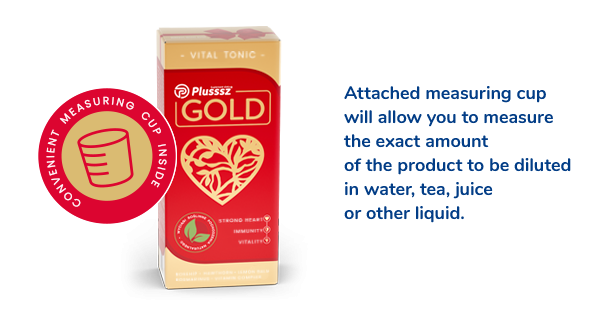 PACKAGE