Plusssz 100% Multiwitamins
+ Mineral
Dietary supplement. No added sugar, contains powdered fruit juice.
Mango – orange flavoured effervescent tablets.

General strengthening of the body

Physical well-being
Plusssz 100% Multivitamin + Minerals is a specialist preparation containing 10 crucial vitamins assuring 100% of the daily dose in 1 tablet. Also contains vital minerals such as magnesium, zinc, selenium, calcium and copper.
INGREDIENS
Zinc, selenium and vitamin C help with the proper functioning of the immune system.
Magnesium and copper help with the proper functioning of the nervous system.
Calcium and pantothenic acid contribute to the maintenance of proper energy metabolism.
Vitamin E protects cells against oxidative stress.
Thiamin and biotin support the nervous system.
Folic acid and niacin help maintain normal psychological functions.
Vitamins B6 and B12 reinforce the immune system.
Ingredients: acidity regulators: citric acid, sodium carbonates; calcium carbonate; bulking agent: sorbitols; magnesium carbonate; vitamins (L-ascorbic acid, nicotinamide, DL-alpha-tocopheryl acetate, calcium D-pantothenate, pyridoxine hydrochloride, riboflavin, thiamine mononitrate, pteroylmonoglutamic acid, D-biotin, cyanocobalamin); flavourings; beetroot powder concentrate; anti-caking agents: polyethylene glycol, polyvinylpyrrolidone; sweeteners: cyclamates, saccharins; colour: riboflavin; coenzyme Q10; orange juice powder – 0.1%; mango juice powder – 0.1%; zinc oxide; sodium selenite (IV); copper (II) sulfate.
METHOD OF USE
Dissolve 1 tablet in a glass of cold water (200 ml)
Rrecommended daily intake – 1 tablet a day.
Do not exceed the recommended daily intake.
Dietary supplements should not be used as a substitute for a balanced and varied diet.
Balanced and varied diet is vital for maintaining a healthy lifestyle.
ASSIMILABILITY
Special Actilease® technology used in the production process ensures optimal stability and bioavailability parameters.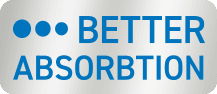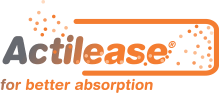 ACTILEASE® is a Trademark of DSM.
Contains coenzyme Q10 prepared in the Actilease® technology.
PACKAGE
Net weight 86g (20 tab per 4,3 g).