Plusssz Junior
Electrolytes Complex
Dietary supplement.  Contains powdered fruit juice.
Orange flavoured effervescent tablets
Plusssz Junior Electrolytes Complex contains 100% electro complex – a specially selected set for children and concentration of important electrolytes (sodium, potassium, magnesium), glucose and a complex of 5 vitamins in amounts providing 100% of daily Reference Intake Values. The components of the product contained in the effervescent tablet after preparation form a rehydration solution. Rehydration preparations are solutions that in their composition contain glucose, potassium and sodium in appropriate concentrations.
Recommended during hot weather, travel, sports activity, mental effort.
It quenches thirst and hydrates the body. Take care of fluid replenishment!
The product is intended for children over 3 and adults.
INGREDIENS
Potassium helps with the proper functioning of muscles and the nervous system.
Magnesium helps with the proper functioning of muscles and contribute to reducing the feeling of fatigue and fatigue.
Thiamine and biotin help with the proper functioning of the nervous system.
Niacin helps to maintain normal psychological functions.
Vitamins B6 and B12 contribute to reducing the feeling of fatigue and fatigue.
Ingredients: acidity regulator: citric acid; glucose; magnesium lactate; sodium bicarbonate; bulking agent: sorbitols; potassium citrate; anti-caking agents: polyvinylpyrrolidone, polyethylene glycol; flavouring; vitamins (nicotinic acid amide, pyridoxine hydrochloride, thiamine mononitrate, D-biotin, cyanocobalamin); beetroot powder concentrate; color: carotenes; sweeteners: cyclamates, saccharines; orange juice powder – 0.1%.
METHOD OF USE
Dissolve one tablet in ½ glass (125 ml) of cold water.
Recommended daily intake – 4 tablets a day.
Do not exceed the recommended daily intake.
Dietary supplements should not be used as a substitute for a balanced and varied diet.
Balanced and varied diet is vital for maintaining a healthy lifestyle.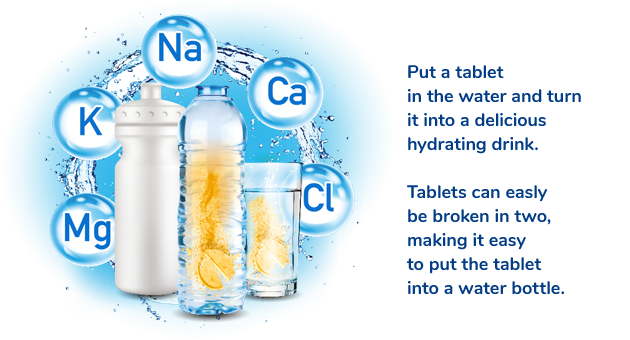 PACKAGE
Masa netto: 80 g (20 tabletek po 4 g)