Plusssz Junior
Multivitamin Complex
Dietary supplement.  No added sugar, contains powdered fruit juice.
Tropical fruits flavoured effervescent tablets
Plusssz Junior Multivitamin Complex is a preparation designed for the most demanding consumers – children. The ingredients were specifically chosen according to their needs. Contains a set of 10 vital vitamins.
Product designed for children over 3 and adults.
INGREDIENS
Vitamin C helps with a proper functioning of the immune system.
Vitamin E helps to protect cells from the oxidative stress.
Thiamin and biotin help with a proper functioning of the nervous system.
Folic acid and niacin help to maintain proper psychological functions.
Pantothenic acid contributes to maintaining a proper energetic metabolism.
Riboflavin contributes to reducing fatigue and tiredness.
Vitamins B6 and B12 contribute to maintaining a proper energetic metabolism.
Ingredients: acidity regulators: citric acid, sodium carbonates; bulking agent: sorbitols; vitamins (L-ascorbic acid, nicotinic acid amide, DL-alpha-tocopheryl acetate, calcium D-pantothenate, pyridoxine hydrochloride, riboflavin, thiamine mononitrate, pteroylmonoglutamic acid, D-biotin, cyanocobalamin); flavourings; anti-caking agents: polyvinylpyrrolidone, polyethylene glycol; beetroot juice concentrate powder; color: riboflavins; sweeteners: cyclamates, saccharines; fruit juice powder – 0.1%.
METHOD OF USE
Dissolve 1 tablet in a glass of cold water (200 ml)
Recommended daily intake – 1 tablet a day.
Do not exceed the recommended daily intake.
Dietary supplements should not be used as a substitute for a balanced and varied diet.
Balanced and varied diet is vital for maintaining a healthy lifestyle.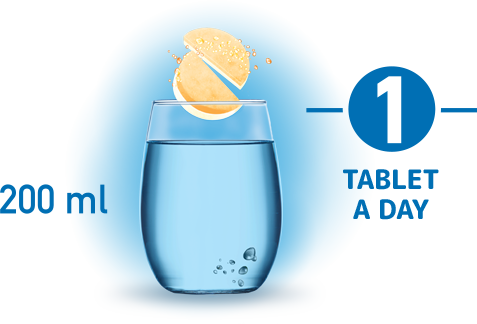 PACKAGE
Net weight 80 g (20 tab per 4 g).